USeP Geology Students Embark on First-Hand LeaRning Experience with MGB 7
Geology students from the University of Southeastern Philippines (USeP) had the unique opportunity to enhance their knowledge and skills through a comprehensive two-week training program conducted by the Mines and Geosciences Bureau Region (MGB) 7. The program aimed to provide students with first-hand experience in the field of geology and promote their career development.
Under the supervision of the General and Economic Geology Section (GEGS) of the Geosciences Division of MGB 7, a group of USeP geology students, namely, Ms. Jay Marie N. Demaraye, Ms. Kaye M. Blancia, Ms. Kharyzz Jeanne C. Balugo, Ms. Rosali Mae R. Niog, and Mr. Sean Levi A. Abiera, engaged in an immersive learning experience from July 3 to July 14, 2023. 
Recognizing the significance of the On-the-Job Training (OJT) program in shaping the future of geology professionals, the GEGS, led by Supervising Geologist Dr. Dennis Gerald Aleta, designed a comprehensive curriculum. Alongside with Senior Geologist John Christopher Santos and Geologist Kurt Russel Golindang, the students were exposed to various aspects of geology, including geology lectures, discussions on ongoing MGB projects such as the National Geologic Quadrangle Mapping Program (NGQMP) and National Mineral Reservation Program (NMRP), rock and mineral identification, field mapping techniques, sampling methodologies, and the use of paleontologic and petrographic microscopes.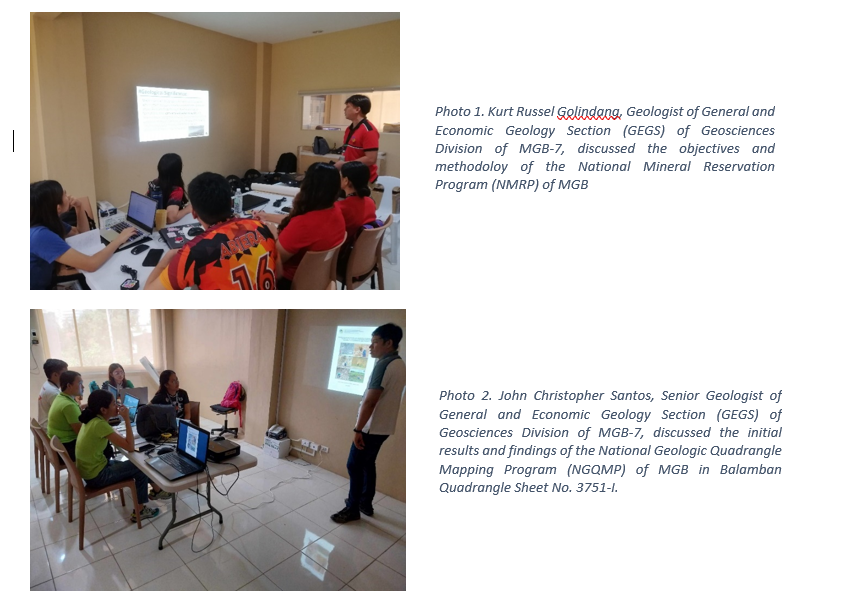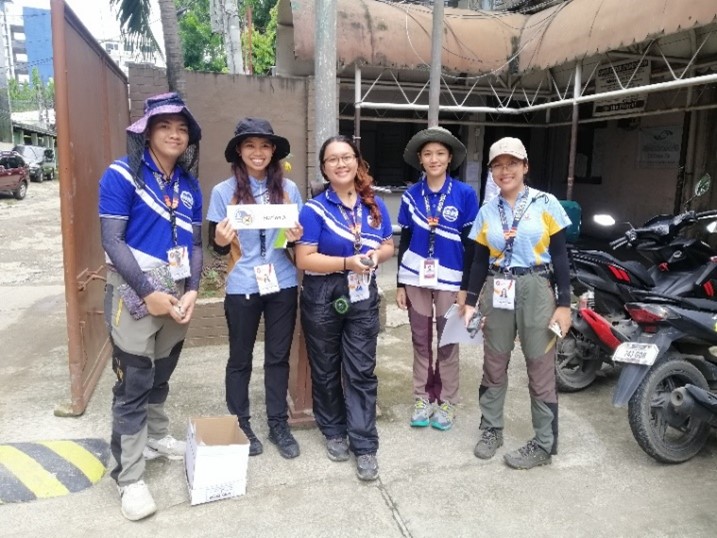 Photo 3. USeP geology students undertook field mapping and rock identification exercises during their On-the-Job Training inside the DENR Compound in Banilad, Mandaue City, Cebu. From left to right, Mr. Sean Levi Abiera, Ms. Kharyzz Jeanne Balugo, Ms. Kaye Blancia, Ms. Jay Marie Demaraye, and Ms. Rosali Mae Niog.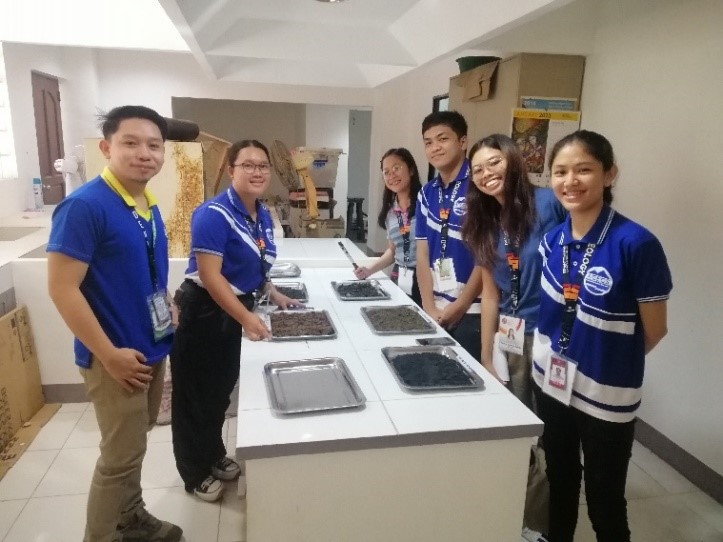 Photo 4. Mr. Carlo Agosto Perez, Chemist III of the Geology Laboratory Services Section of Geosciences Division, gave a lecture on the techniques and methodology of sample preparation.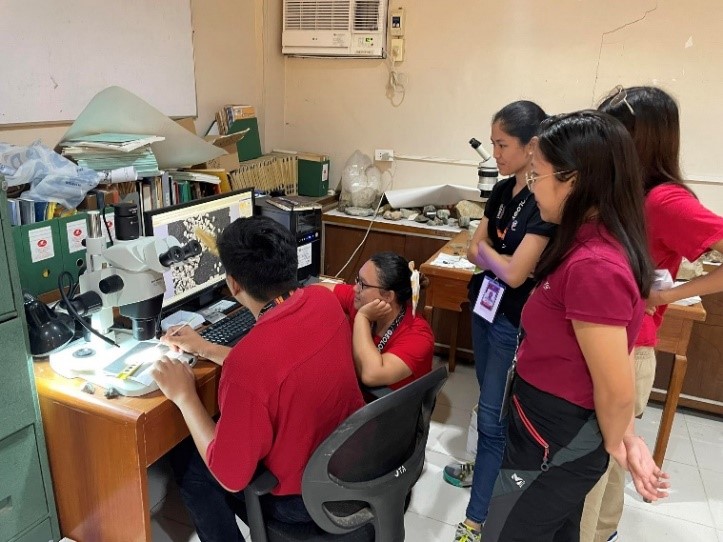 Photo 5. USeP geology students familiarize themselves in using the paleontological microscope. They were tasked to pick foraminifera from the samples prepared by the GEGS.
The highlight of the program was the hands-on experience in geological fieldwork and geochemical sampling. The students boarded a field trip to the Municipalities of Balamban and Asturias, Province of Cebu, on July 6-7, 2023. Accompanied by Senior Geologist John Christopher V. Santos, they revisited their foundational geological knowledge and mapping techniques while observing real-life geologic structures in Barangay Lamesa. They were also treated to stunning landscapes in Barangay Sunog, Balamban.
During the field trip in the Municipality of Asturias, the students had a chance to deepen their knowledge of geology. They examined an outcrop of serpentinized peridotite in Barangay Tabubonga and studied Bulacao Andesite in Barangay Bago. Geologist Kurt Russel Golindang led a demonstration of geochemical sampling techniques in Barangay Agbanga, Asturias. Throughout the trip, the students were able to observe and analyze various geological formations, such as the Mananga Group, Uling Limestone, Bantoon Serpentinite, Lutopan Diorite, Bulacao Andesite, and Carcar Formation, all of which are present in Cebu Province.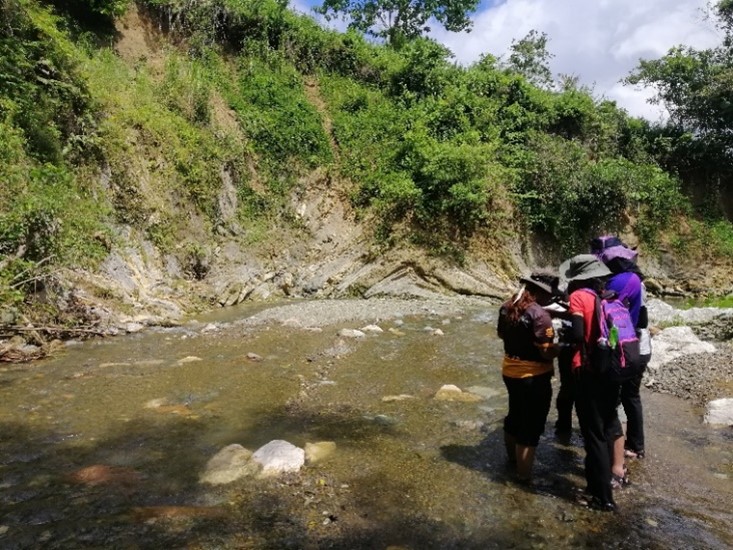 Photo 6. Geologic mapping of USeP geology students in Barangay Lamesa, Balamban, Cebu.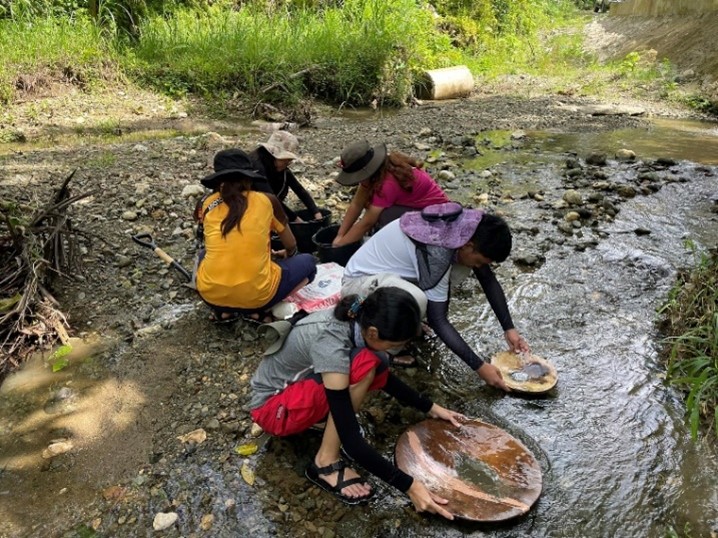 Photo 7. USeP geology students collected stream sediments sampling by panning and sieving method along a tributary of Agbanga River in Barangay Agbanga, Asturias, Cebu.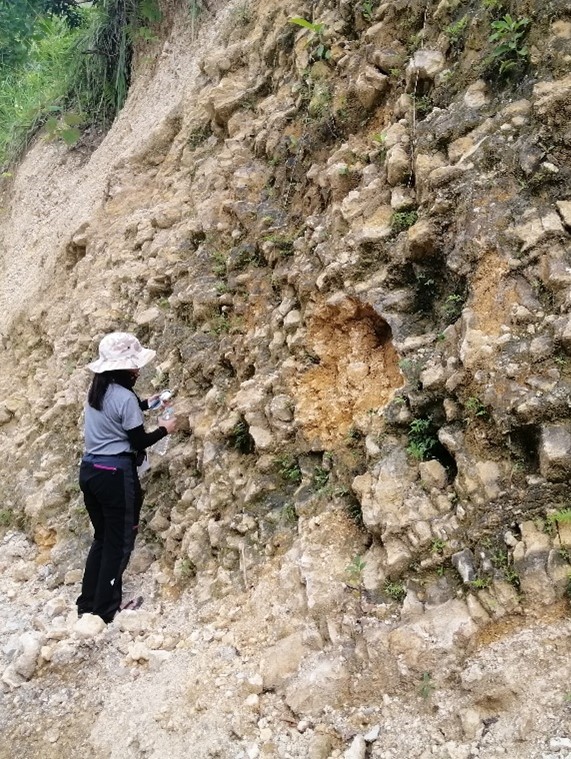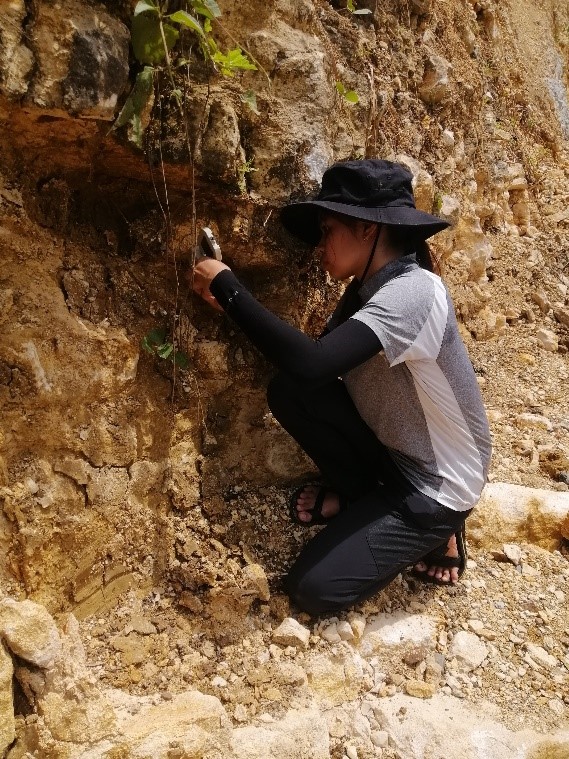 Photo 8. Ms. Rosalie Mae Niog (Left) and Ms. Kharyzz Jeanne Balugo (Right), USeP geology students undertaking MGB7 OJT Program, measured the strike and dip of an inclined interbeds of sandstone and mudstone outcrop in Barangay Lamesa, Balamban, Cebu.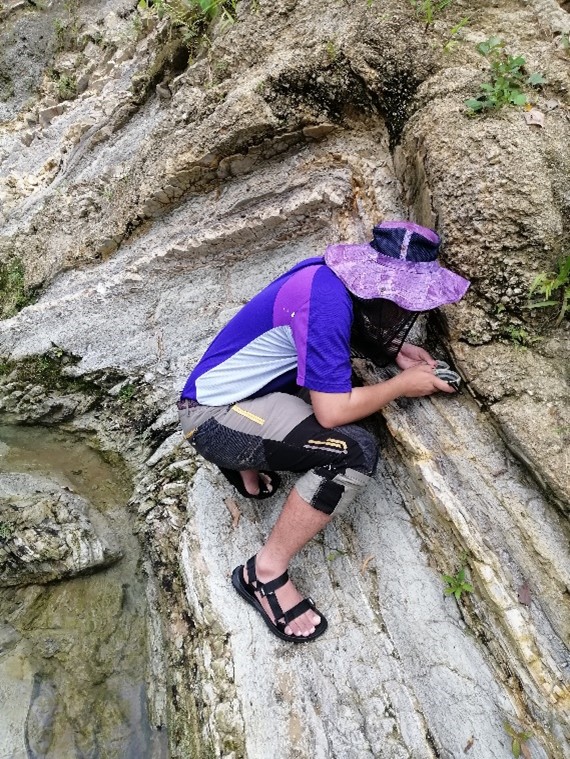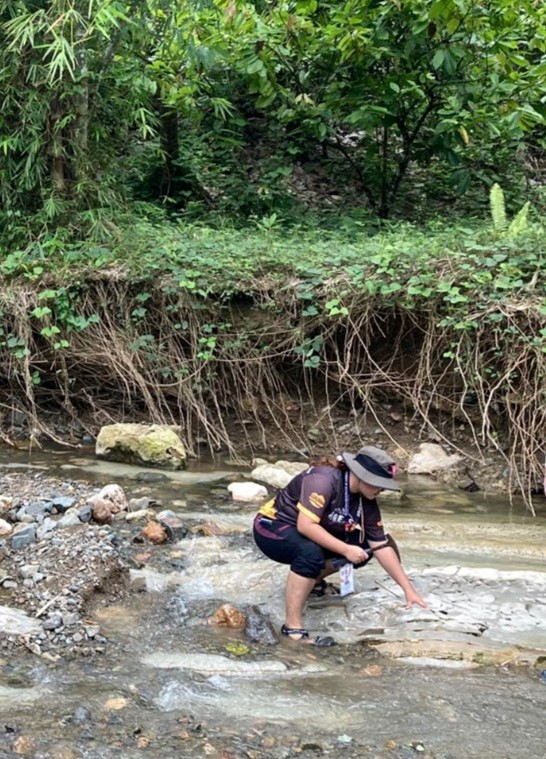 Photo 9. Mr. Sean Levi Abiera (Left) measured the strike and dip of a limb of a fold structure in Barangay Lamesa, Balamban, while Ms. Kaye Blancia (Right), collected rock samples of the sandstone-mudstone outcrop in Barangay Lamesa, Balamban, Cebu. Mr. Abiera and Ms. Blancia are USeP geology students undertaking MGB7 OJT Program this year.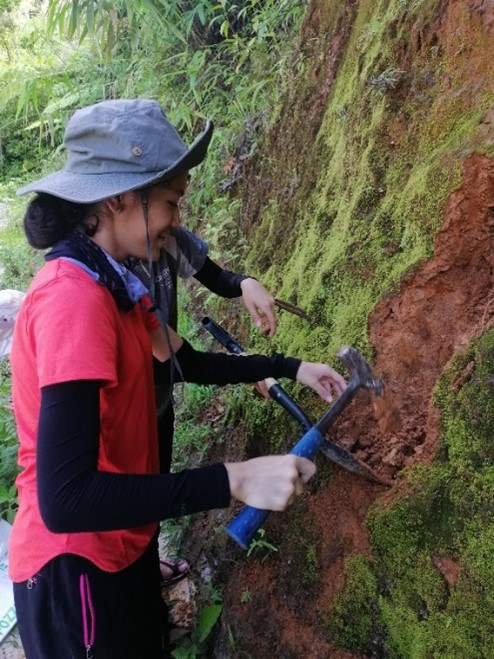 Photo 10. Ms. Jay Marie Demaraye, USeP geology student undertaking MGB7 OJT Program, collected soil samples in Barangay Sunog, Balamban, Cebu, to be submitted to a private laboratory for further laboratory analyses.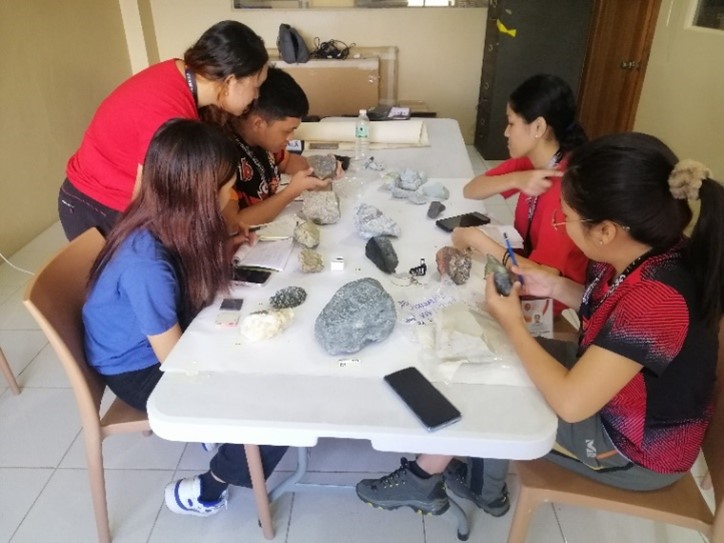 Photo 11. Rock and mineral identification exercises were prepared by the GEGS to help geology students to prepare for their board exam in the future.
The training program also encompassed essential elements for the students' future licensure board exams. GEGS administered geology exams and
conducted mineral and rock identification exercises, providing the students with practical experience and helping them become familiar with common
rock-forming minerals. Additionally, the students received guidance on map preparation and technical report writing, crucial skills for their future
geology careers.
The intensive two-week program concluded with a culminating activity held on July 14, 2023, at the Geosciences Division Office. The students showcased their activity outputs, including fieldwork technical reports, to a distinguished audience. Chief Geologist Al Emil Berador, Supervising Geologist Josephine Aleta, Chemist III Carlo Agosto Perez, Chemist IV Cristi Cesar Megraso, GIS Specialist Harry Miñoza, PIO Heart Rizarri, and
the GEGS were in attendance. Following the presentations, the students underwent an evaluation exam, which they all excelled in, further highlighting
the knowledge and skills they acquired during the training program.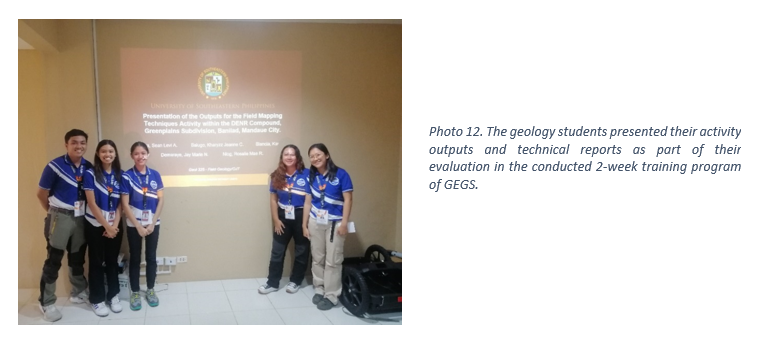 MGB7's commitment to nurturing aspiring geology professionals through hands-on training and comprehensive programs serves as a steppingstone for these students' future success. By equipping them with practical skills and real-world experience, this collaboration with USeP is fostering the development of competent and knowledgeable geologists who will contribute to the advancement of the field and the nation. 
(Contributed by JC Santos)