The Mines and Geosciences Bureau Employees Association Region VII Chapter (MGBEA-7) recently visited the Asilo dela Milagrosa Orphanage as part of its Community Outreach Activity after Typhoon Odette.  The Central Executive Board, headed by MGBEA-7 President Josephine T. Aleta, organized the outreach activity with the Theme "MGBEA-7 CARES" as part of the association's thanksgiving for the substantial financial assistance from various donors in the aftermath of the typhoon. MGB Regional Director Armando L. Malicse wholeheartedly supported the initiative.
At least thirty-seven (37) recipients ranging in age from 1 to 20 years old who are the present wards of the orphanage, received individual packs containing t-shirt and personal hygiene products. Boxes of food items and requested essential needs for the upkeep of the orphanage were also included in the donation package. Joining the community outreach activity on March 31, 2022, are the MGBEA-7 Board of Directors (BOD) namely: Amelita G. Acedo (Secretary), Maria Elena S. Lupo (Asst. Secretary), Genaro A. Sarpamones, Jr. (Asst. Treasurer), Lester N. Datan (PRO) and Edgar C. Lagarnia (Asst. PRO). The other BOD i.e., Cid Jerome O. Navarez (Vice President), Pedro P. Semblante, Jr. (Treasurer) and Aira L. Torregosa (Auditor) had important commitments on that day, making them unable to join the group.
With this first charitable endeavor of the MGBEA-7, the Officers are planning on making this a yearly program as a way of paying forward all the blessings that MGBEA members receive.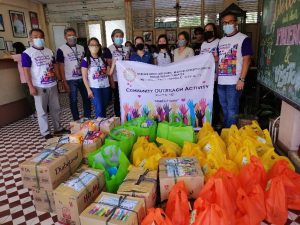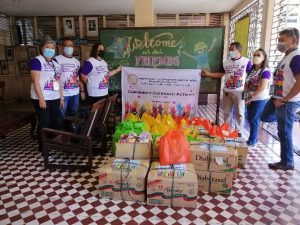 Group photo of MGBEA-7 Board Members with the staff of Asilo dela Milagrosa Orphanage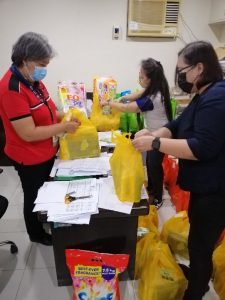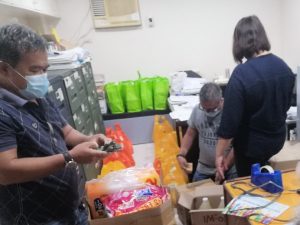 MGBEA-7 Officers packing the donation items