MGB7 promotes responsible mining awareness through R7 Information Officers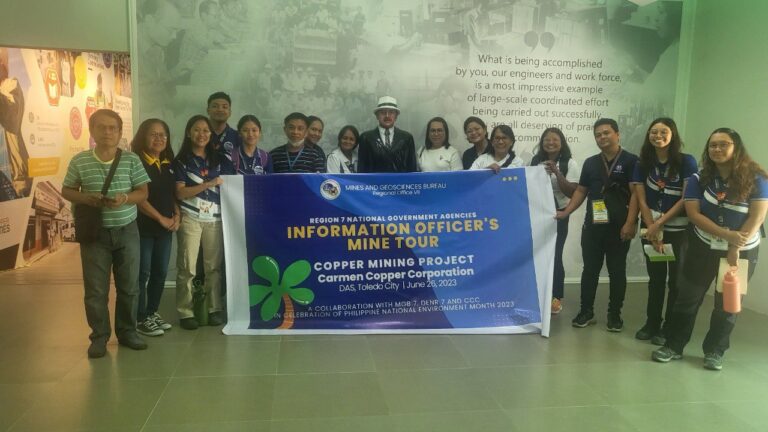 The Department of Environment and Natural Resources Region 7 (DENR7) and Mines and Geosciences Bureau Region 7 (MGB7) pushed forward the importance of responsible mining practices in Central Visayas to celebrate this year's Philippine Environment Month.
An exciting highlight of the celebration was the Educational Mine Tour organized in collaboration with Carmen Copper Corporation (CCC). Held last June 26 in Toledo City, Cebu, the tour aimed to educate Information Officers (IO) of National Government Agencies about responsible mining and the economic contributions of the mining industry.
Regional Director Armando Malicse expressed enthusiasm for this positive partnership, emphasizing the collaboration with government offices, academia, and stakeholders to disseminate information on responsible mining practices. The tour aimed to dispel misconceptions and show that responsible mining and environmental conservation can go hand in hand.
CCC warmly welcomed 20 participants, including five geology students from the University of Southeastern Philippines, as On-The-Job trainees at MGB 7 to the mine site.
During the tour at the Carmen Copper Heritage Center, discussions covered various topics, including the company's mission and vision, the historical significance of Toledo City's transformation through CCC's presence, revitalization efforts, community programs and projects, environmental protection initiatives, reforestation programs, the Emergency Response Team's role in managing emergencies, responsible mining's environmental performance, operational aspects, and safety reminders.
"The mine tour provided participants with a firsthand experience of mining operations and the opportunity to engage in discussions with CCC personnel on responsible mining practices, and I hope they have gained valuable insights," Malicse said.
Special thanks were extended to the CCC team, led by AVP-SHECS Christopher John W. Salcedo, for accommodating the Information Officers and facilitating the tour. (IO/Heart Rizarri)