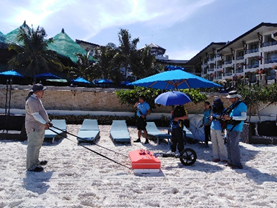 Geomorphological assessment and ground penetrating radar (GPR) investigation were undertaken on the second week of December 2018 in support of DENR Secretary Roy A. Cimatu's program of ensuring pollution-free sea water in tourist destinations, particularly small islands in the country e.g., Panglao, Bohol.
The activity was done by a composite technical team from the MGB Central and Region 7 Offices, complemented by a field team from EMB-7 who simultaneously conducted ambient water sampling within ten (10) established sampling and monitoring stations along the southern and northwestern shore of Panglao, Bohol.
The water samples are then sent to the EMB Region 7 Laboratory for water quality analyses, particularly for presence of fecal coliform. Preliminary results show above normal values of fecal coliform during the months of January, April and December 2018. The results were utilized as reference for the GPR survey along the beach areas of the municipality.
The target areas are mostly hotels/resorts located along the beaches of the municipality that might be contributory to fecal coliform contamination of seawaters in the area.
GPR equipment of the MGB Central Office (Geophysical Survey Systems, Inc. (GSSI) SIR 4000 Model) that was used during the survey, is able to locate buried utilities such as pipes or subsurface features such as cavities, continuity of soil layers and rock masses. Such features register as hyperbola/anomalies on the GPR radargrams. The team found high possibility of buried utilities that maybe discreetly disposing wastewater. Relative thereto, the team recommended ground validation through excavation of high target sites. Subsequent excavation on some of these sites yielded positive results as buried PVC pipes, culverts, etc. were uncovered. Continuous monitoring and sampling is likewise recommended by the team as recent results of water analyses show high fecal coliform values on some of the sampling sites.
Progress reports were submitted to the DENR, MGB-7 and EMB-7 as well as the MGB-Central Office. Local Officials i.e., the Mayor of Panglao, the Bohol Environmental Management Office (BEMO) and the Office of the Governor were likewise briefed about the initial findings of the team.