MGB 7 tackles mining permits, legalities at ENR Training Workshop
Three officers of the Mines and Geosciences Bureau (MGB) 7 provided lectures on mining permits and legalities during the 3-Day Environment and Natural Resources (ENR) Management and Law Enforcement Training Workshop on April 20, 2022 at DepEd Ecotech Center, Lahug, Cebu City.
Relevant Provisions of Republic Act 7942 or the Philippine Mining Act were discussed by Engr. Edgardo C. Loquellano, Atty. Cid Jerome O. Navarez and Engr. Edward S. Malahay respectively.
The discussion included familiarization of mining permits; legal basis on the conduct of apprehension, seizure, confiscation, and disposition of illegally sourced minerals/mineral products, tools, conveyances, and equipment; and familiarization of transport and apprehension documents.
The session ended with an open forum which garnered more inquiries regarding the legal basis of dealings with illegally sourced minerals as discussed by Atty. Navares.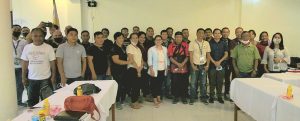 ENR Academy Courses were developed by the Human Resource Development Services (HRDS) of the Department of Environment and Natural Resources (DENR) to ensure that all DENR personnel, including frontline officers, are equipped with the knowledge, skills, and abilities needed for the effective performance of their responsibilities. (MGB7/IO)