The Geohazard and Engineering Geology Section (GhEGS) of the Mines and Geosciences Bureau (MGB) 7 Geosciences Division kicked off the first segment of the Lecture Series as part of the Orientation Seminar for the Bureau's On-the-Job Trainees (OJTs) from Davao City on July 21.
OJTs Rica Mae Cavan, Russgel R. Morales, Grace Joy P. Pretencio, Maria Kristina D. Salientes, and Cesar Anthony N. Demavivas are from the Bachelor of Science in Geology Program of the University of Southeastern Philippines (USeP) in Davao City.
Ms. Josephine T. Aleta, Supervising Geologist and Section Chief of GhEGS, introduced to the trainees the types of geohazards under the mandate of MGB and the functions of the section.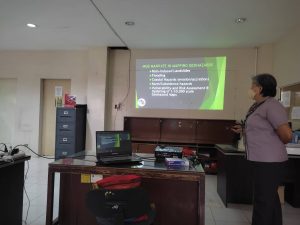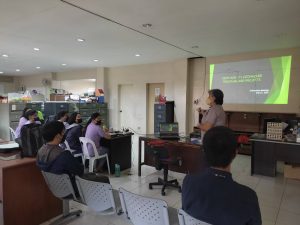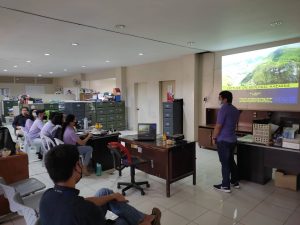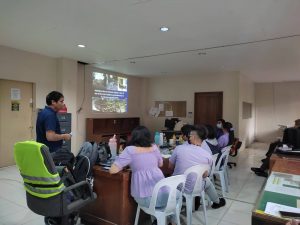 Geologist JR I. Lantaca discussed the fundamentals of rain-induced landslide and flood and their corresponding mapping activities, which include the Vulnerability and Risk Assessment and the Updating of the 1:10,000-scale Geohazard Maps.
Senior Geologist Russyl Bryile Anthony Q. Lanzaderas talked about karst subsidence hazards and the Detailed Subsurface Assessment while Geologist Ronnel S. Dalugdog explained the Coastal Geohazard Mapping Program of the Bureau.
The General and Economic Geology Section (GEGS) and the Hydrogeology and Environmental Geology Section (HEGS) are also set to conduct their lecture for the OJTs on July 25 and August 2, respectively.
The five trainees were formally introduced by Geosciences Division Chief Al Emil G. Berador in the presence of the Regional Director Armando L. Malicse and MGB 7 personnel following the flag raising ceremony.
OJT training is scheduled from July 18 to August 12, 2022.