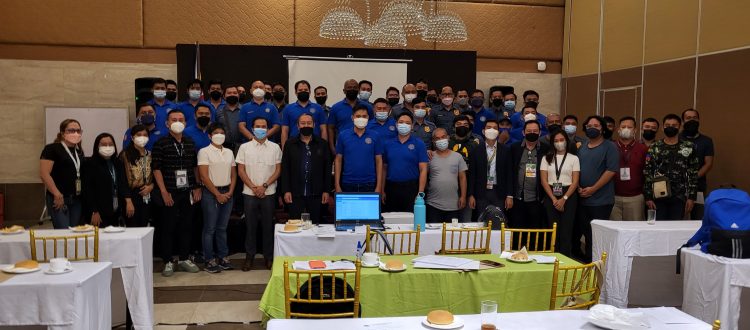 MGB 7 deputized PNP, CIDG, CCENRO to enforce mining laws
Regional Director Armando L. Malicse of the Mines and Geosciences Bureau (MGB) Regional Office – 7 deputized about 44 enforcement officers in the city and province of Cebu to strengthen and augment the implementation of the mining laws and curb illegal mineral extraction in Central Visayas.
At least 22 personnel from the Philippine National Police-Cebu City Police Office (PNP-CCPO); 17 from the Criminal Investigation and Detection Group (CIDG) 7; and 15 from the Cebu City Environment and Natural Resources Office (CCENRO) have participated in the activity.
The newly deputized personnel and other CCENRO staff participated in the Enforcement Training on Anti-Illegal Mining Tuesday, March 8 at the One Central Hotel, Cebu City prior to taking their oath as Environment and Natural Resources Officers for MGB.
As deputized officers of the MGB, they can now apprehend and/or confiscate illegally sourced minerals, mineral products, by-products, tools, and equipment including conveyances used in the commission of an offense in violation of relevant provisions of Republic Act 7942 or the Philippine Mining Act of 1995.
"The Mines and Geosciences Bureau – 7 cannot do this alone. We need the active coordination with and cooperation of the local government units and all enforcement agencies to curb illegal mining activities in the region," said MGB 7 Regional Director Armando L. Malicse.
Last Tuesday's activity was the first training and deputation in Central Visayas for this year aimed to further strengthen the enforcement of mining laws and help conserve and protect the country's mineral resources.
MGB-7 has virtually conducted the said training and deputation even during the pandemic.
Cebu City Mayor Michael L. Rama and CCENRO Head Editha D. Peros thanked MGB-7 for the activity conducted and for the very informative presentations as well as the facilitators and CCENRO staff.
"The training is very important to raise awareness among law enforcers about Mining Laws, the various types of permits issued by DENR-MGB, as well as the local government unit's devolved MGB function," MGB 7 Legal Officer, Atty. Cid Jerome O. Navarez said.
Police personnel requests more mining training and workshops related to enforcement as mentioned on the post-evaluation sheet.
Atty. Navarez proposed uniform and unified procedures for the apprehension in implementing the mining laws in the region.
He assured that MGB-7 will maintain its close coordination and communication with the PNP personnel during their intensified apprehension and will seek collaboration and cooperation with local government units. (IO/MGB7)
Prepared by: Hearty Marie O. Rizarri/ IO MGB7