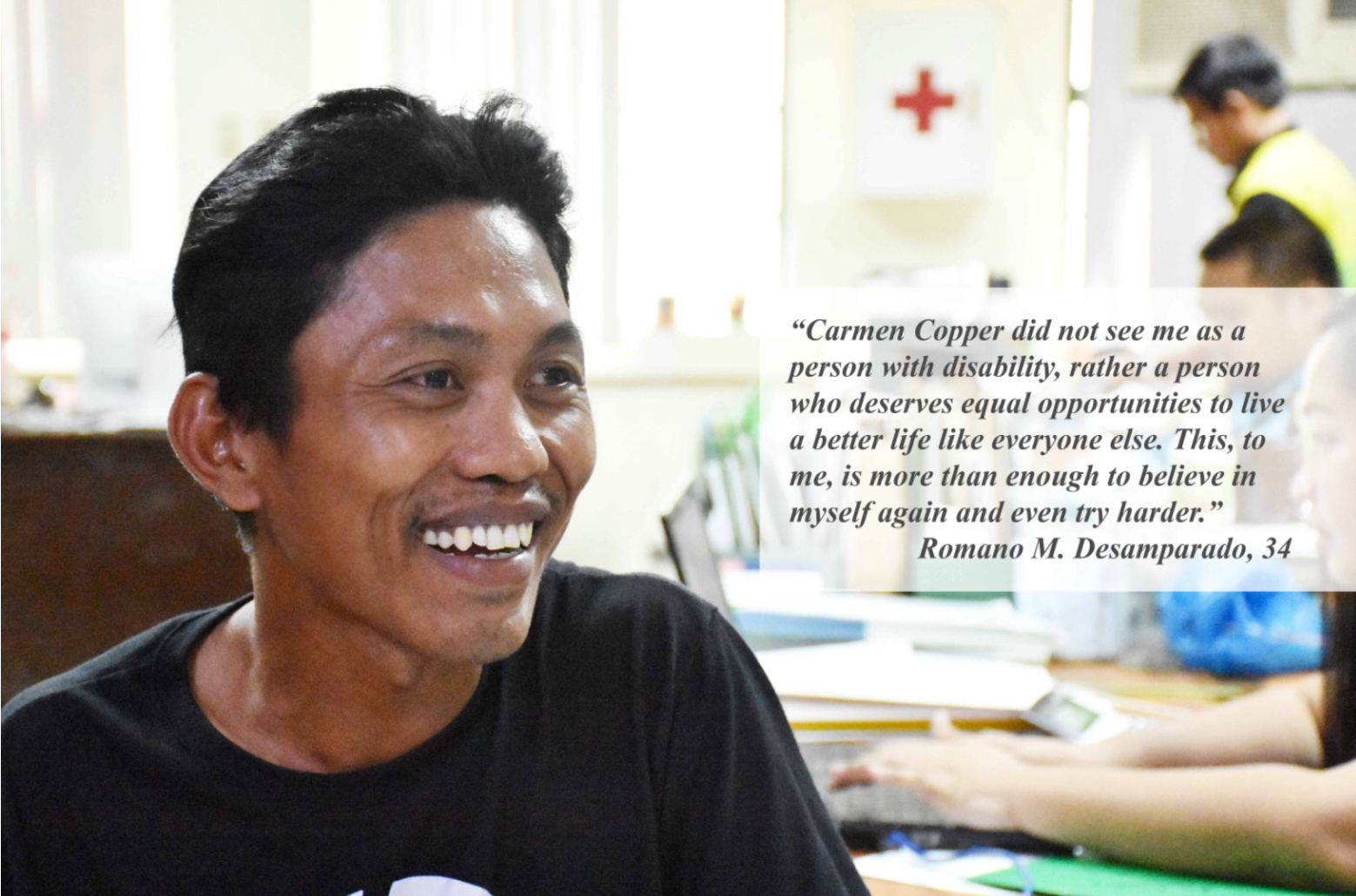 The mountain view of Toledo brought a very familiar feeling to Romano M. Desamparado, as he received his recognition of completion as one of Carmen Copper's 147 Technical-Vocational Scholar-Graduates. He couldn't help but be brought to tears as he has come back to the place that have brought him years of happiness as well as years of heartbreak.
Romano, as he is fondly called by his friends, is one of the thousands of children whose parents worked for Atlas Mining. He has seen the peaks and valleys the company has taken. At its hay-day, Romano would remember how beautiful his childhood was, their family feeling so secured and lived in abundance. However, he also saw as the light turned dim when Atlas ceased operations in 1994. Their family went on a downward spiral as the family were unable to bear financial difficulties, leaving their family broken and separated.
"I will never forget the happy times we were together as one family, sharing one home, not worrying about the next day's meal. After my father loses his job, we started living a hand to mouth existence. I was sent to a relative. And when my parents broke up, I became a troubled child."
Today, at 34 years old, he could still recall the pain of losing their family. His journey carried on the downward spiral as he left school and missed out on many opportunities. However, it was in 2007 that brought him at his lowest, when he met an accident that injured his left leg, leaving him with permanent partial disability. He drowned in depression, contemplating to end his life. Yet, it is during this darkest moment that he realized he needed to change his life.
Romano gathered the little strength he had in him to complete his high school and started working light jobs. And his life came full circle, when he was brought back to the place that once brought him happy memories – the mining site. Through Carmen Copper's Skills Training Program, Romano graduated a TESDA accredited technical-vocation course, Electrical installation and Maintenance (EIM), earning him his first NC II. He also gained on the job work experience as a trainee in Carmen Copper.
"Carmen Copper believed in me despite my condition. They did not see me as a person with disability, rather a person who deserves to enjoy equal opportunities to live a better life. This, to me, is more than enough to believe in myself again and try even harder," said Desamparado.
Romano's story is one that shared by hundreds of Carmen Copper Technical-Vocational Scholar-Graduates. Carmen Copper Corporation's Social Development and Management Program (SDMP) focuses on helping people like Romano to be self-sufficient. It provides programs in education, health and wellness, skills training and enterprise development, cultural heritage, and disaster resilience.