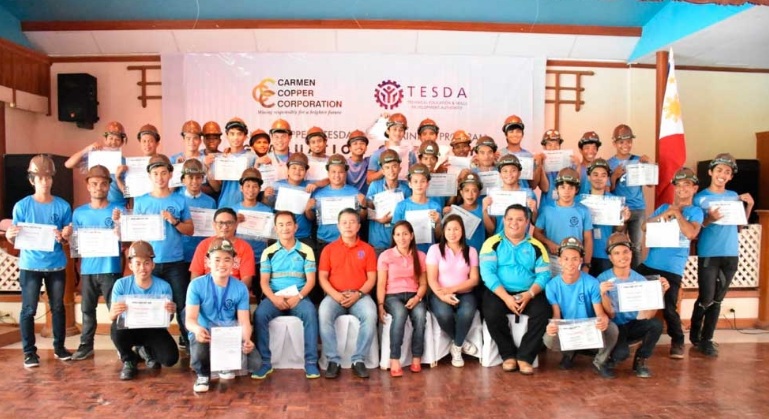 ANOTHER batch of 50 technical vocational skills training program scholars graduated last May 4, earning them their NC (national certificate) II for shielded metal arc welding (SMAW) or electrical installation and maintenance (EIM).
They are the third batch of scholars under the Carmen Copper-Technical Education Skills Development Authority (Tesda) skills training program. It is a partnership project that aims to help unemployed Toledo residents acquire skills for them to get better jobs.
The program has produced a total of 147 graduates, most of whom have landed jobs either locally or abroad.
Of the 50 new graduates, 25 of them finished their SMAW NC II course after completing the 268 hours center-based training at the Tesda–Provincial Training Center in Toledo City, Cebu.
The remaining 25 scholars graduated from EIM NC II course after undergoing their 402 hours training.
After their center-based training, Carmen Copper opened its doors to accommodate them for a 240-hour paid on-the-job training to further strengthen their foundation. They were paid P240 per day as trainees for 30 days.
With their training and experience, the company believes that the scholars now have the edge over other candidates on related jobs they wish to pursue.
Rodel P. Rabanes, 27, of Barangay Bunga, said he has been hired by one of the leading real estate developers in Cebu. Rabanes is an EIM NC II graduate.
Being third in the brood of 10, he is solely supporting his parents after five of his siblings have settled down, while the other four are still young to fend for themselves.
His father is a project-based carpenter, while his ailing mother is a homemaker.
Even after years of working as a promodizer at a mall in Cebu City, he said his earnings had never been enough to make ends meet for the family.
Leaving aside his personal needs, Rabanes wants nothing more than a better paying job to support his parents and younger siblings.
"Ganahan gyud ko maka-abroad para mas makatabang pa sa akong ginikanan. Para nako dili na ni imposible kay kompleto nako sa requirements ug sa pinaka-importante, ang skills ug experience," Rabanes said.
Rabanes was awarded the most outstanding EIM trainee among his batch of graduates. He received a certificate and a cash incentive.
Dennis V. Pardilla of Barangay Cantabaco was awarded most outstanding SMAW trainee. He also received a certificate and cash incentive. (Press Statement from Carmen Copper published in Sunstar Cebu)